My Colt Model 1901 Double Action Army
A couple of years ago a friend of mine asked me if I would be interested in buying his Colt Model 1901 army revolver. He told me it was in nice condition. Well, I gotta tell ya, I was interested!
The last time I had one of those early Colt swing out cylinder models was when I was a kid. My dad gave me a well used 1901 to practice double action shooting. At that time it was no big deal to get thirty eight long or short Colt ammunition. I, however, have always enjoyed reloading my own ammunition. Loading 38 Colt ammunition was always fun for me. As a matter of fact, I still have my "ideal" loading tool for this caliber. Always shot that Colt for several years until I pretty much wore it out.
I thought it would be nice to have another 1901 Colt in my collection; just for old time sake. The Colt was just as my friend said, "pretty nice condition." I rated it to be about 92% condition, so we struck a deal for this pistol. The only thing I noticed was that the serial number was the seven  thousand range, which I thought was odd. My old 1901 was, as I recall, was in the middle one hundred thousand range.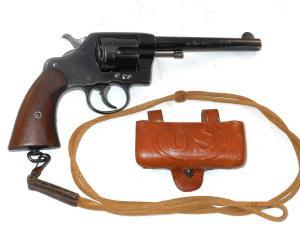 After getting the Colt home I looked up the serial range for the 1901 models. According to Colt serial range book the correct model listed for the seven thousand range should be a 1892 model first year production, not a 1901 model. So what gives here?
I took the Colt apart. Every assembly number matched the serial number, which was odd. The bluing is correct and shows no sign of refinish.  The cylinder had no serial or assembly number, just two government inspector initial stamps. On loading surface between cylinder chambers. Otherwise at this point nothing else showed up. I'm a firm believer that when in doubt about a firearm, contact the manufacturer if possible. So with that in mind I wrote to Colts explaining my problem and asked them to check their records and see what they come up with.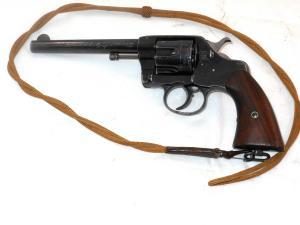 It took a while but the Colt archive office got back to me. they explained that many earlier army model thirty eights double action revolvers were sent back to Colts or Springfield armory for repair or upgrade; especially after the war with Spain in 1898. If the work was done by Colts, they carefully removed model designation and serial number after repair or upgrading. They then installed a lanyard swivel and marked the pistol with the new model designation of 1901. For the serial number they sometimes used the assembly number. This was the government's way of reusing older model pistols in stock to bring them to the new standards. With the original serial number now missing, Colt could not tell me what this particular pistol's model number was or date of manufacture was when it left the factory. Colts did recommend this book – A Study of Colt's New Army and Navy Pattern Double Action Revolvers 1889-1903 by Robert Best to help explain all my questions concerning my pistol. 
I must say that throughout the many years I've dealt with Colts they have always been more than helpful. Best of all Colt archives will go the extra mile to help a collector with research or information concerning their firearm.
As you can imagine, I bought a copy of this book by Mr. Best. It did answer a lot of nagging questions concerning this pistol. From what I can figure out about this Colt is that the cylinder has been replaced and maybe some of the "guts" upgraded. I may never really know what this pistol started life as, but right now I have a very nice rebuilt? Upgraded 1901 pistol that most likely had seen service. I'm proud to have such an interesting veteran Colt in my collection.
Until next time.
Happy Collecting.
Harry