On Collecting World War I Guns
It just makes me realize that the Great War of 1914-1918 was almost a hundred years ago. I remembered reading recently that the last American soldier of that war died last year. My dad was also a veteran of that conflict. As a kid growing up, dad would tell me stories of his experiences of that long ago time. I was also lucky enough to have met veterans of both the Austria Hungarian and German Empires.
Dad brought back plenty of souvenirs of The Great War when he was mustered out in 1919. German battle flags, Lugers, Mauser pistols, rifles, Colt 1911 and 1917 pistols, Smith & Wesson Model 1917 pistols, various accessories for these guns and boxed ammunition. I still have many of his guns and accessories in my collection now.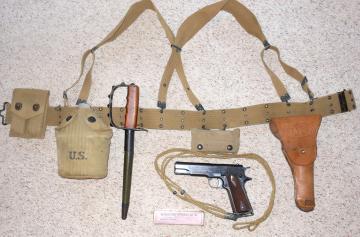 The best part with dad's collection was that as I got older I was allowed to shoot the various guns he had. Dad would show me how the soldiers would use the guns and equipment available to them. The firsthand accounts by my dad have helped me tremendously in recognizing original as issued equipment and firearms of the American and German armed forces.
As a young person growing up, that war did not seem so long ago. I did not really consider collecting World War I gun and their accessories. After all, dad had a pretty good collection already on hand. It was well known that the various services ordered war material by the millions, so there should be plenty of collectable items for any collector to find easily. Boy was I wrong!
I never considered how much German equipment was destroyed after the war as part of the Versailles Treaty accords imposed on Germany. I never took into consideration that many of the guns left after surviving the various treaty sanctions were altered, upgraded or reconditioned during the 1920s and 1930s. this was especially true with the german rearment programs in the late 1930s.As for American guns, especially Colt Model 1911 pistols, many of those were converted to 1911A1 upgrades. Many of the rifles were used in the lend/lease programs to support England's war effort in World War II. Many others were reissued to our services when we entered the conflict in 1941. Taking all this into consideration, the survival rate of original condition guns must be extremely low. Especially when you also factor in combat losses.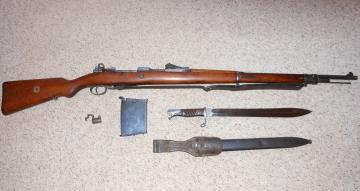 Now like I said earlier in this article, it's almost a hundred years ago when these guns were made. I now know why it's so hard to find nice, original as issued unaltered World War I guns. When you go to a gun show or other places that sell firearms. Look around to see what's out there, especially try to find original German G.E.W. Model 1898 all matched serial number rifles or Colt and Smith & Wesson Model 1917 pistols. They are out there, but remember, I'm talking about unaltered original as issued guns here, not reconditioned or rebuilt pieces. I do believe these firearms are the next "sleepers" for collectors to take note. Once people realize that World War I will be one hundred years old soon, this period of time will now be part of our collective history. I do believe there will be a major collecting interest in World War I items developing very soon.
For collectors that may wish to consider collecting this field, buy the best guns you can afford. Like any other collecting field, condition is everything! I cannot stress this view on collecting enough! If you watch the Antiques Road Show on TV, they are always talking about condition as a prime factor in evaluations and how critical those evaluations drive the price of an object. Another piece of advice is to try to acquire the accessories associated with the gun you wish to collect; such as the original holster or sling, clip carriers, lanyards ammunition pouch, etc. This helps to make your gun stand out from just another gun in a collection. If or when you wish to sell your piece, it will make it more desirable for a buyer when you have all the accessories issued for that gun. That buyer will be willing to pay a premium for a complete rig. Don't forget, having a complete set completes the gun in my opinion, and makes for a better visual appeal to a collector.Is not that what drives a person to collect in the first place,to aquire the pieces to create a story or theme for thier collection?